The staff at West Portland Baptist Church has spent many years committed to the Christian faith. Our staff enjoys sharing that faith and knowledge with others in our church community. Here are a few of West Portland Baptist Church's staff members: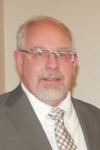 Charlie Robertson
Pastor
Pastor Charlie Robertson is excited to be serving as the pastor at West Portland Baptist Church. Prior to arriving here in January 2013, he served churches in Grafton, NY and Fort Ann, NY. His priority is to encouraging people in their spiritual lives, teach and preach the Bible, and lead the church to grow in size and in spiritual maturity. He also enjoys the opportunity to serve in the community and has joined the Portland Fire Department where he volunteers as an EMT-CC.

Ed Cannon
Chairman of
Deacon Board
Questions on Spiritual leadership, community needs, outreach, special minister, Pastoral duties, problems, concerns will be handled by the Board of Deacons. (All communication is confidential)

Gary Henry, Sr.
Director of Church Outreach
Effective January 1, 2010, after 40 years of faithful service as Pastor of WPBC, Gary has elected to retire from the day to day pastoral responsibilities and duties. Because of his background and wealth of experience, the Board of Deacons has appointed him to this new position. Gary's duties in this position will include preaching in Pastor's absence, continuing direction to the Board of Trustees for church's financial reports, and serving as Treasurer for Brocton-Portland Food Pantry.

Earl Williams
Chairman of
Trustee Board
Questions on the facility or new projects will be directed thru this office.
Mary Ann Myers
Treasurer
Mary Anne Myers is church treasurer. If you need an accounting of your gifts, have questions on how to direct special giving, or would like to check on church finances please contact her.

Christina Akin
Secretary
Christina Akin is the Church Secretary and Clerk. Questions on members, births, and transfers can be handled by her office.
Tim and Sally Farnham
Custodial staff
Tim and Sally Farnham are our church custodians. Questions regarding cleaning, upkeep, wedding set up and activity center rental can be answered by their staff.
Most members of our staff can be reached via E-mail or please feel free to contact us through our contact form.